Happy American Education Week!
We would like to thank all of the incredible people who dedicate their lives to our public schools – teachers, administrators, bus drivers, substitutes, food staff, and so many other Greenville County Schools employees. Throughout this uniquely difficult time, they've demonstrated incredible resilience, and we are honored to support them.
Throughout the week, we're partnering with OnTrack Greenville to shine the light on two educators from each of the program's six schools who continually weave innovation and creativity into their practice.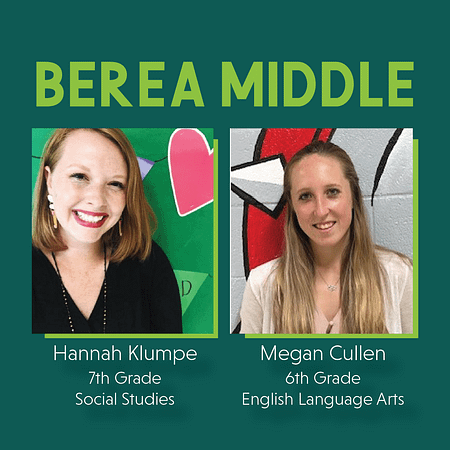 BEREA MIDDLE
Principal Corey Collington shares why he nominated Ms. Klumpe and Ms. Cullen.
"Hannah Klumpe, or Ms. K as the students affectionally call her, has been a positive figure at Berea Middle since she joined our staff three years ago. She is always working hard to provide engaging lessons that promote the diversity of our students. Pre-Covid, she would always show up to events such as basketball games and Skate Nights. She has also worked hard to revive our Beta Club, and is also a NearPod Certified Educator, which has been a benefit for our students and teachers. We are so appreciative to have Mrs. Klumpe!"
"Megan Cullen is first year teacher who has come in and done a phenomenal job. She is an excellent teacher who builds relationships and creates engaging lessons. All of her students are truly engaged, including our most challenging students. She is also our volleyball coach. She has built positive relationships with all of the girls on the team and a positive rapport with the parents. She definitely has gone above and beyond at Berea Middle School!"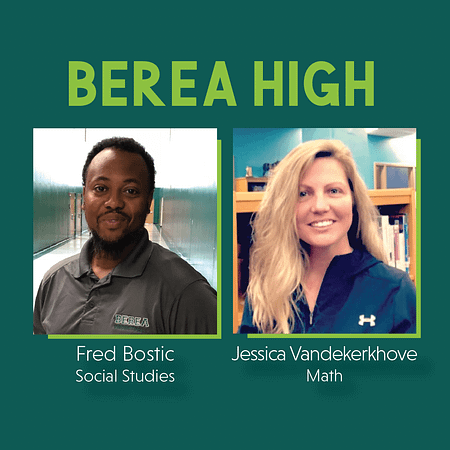 BEREA HIGH
Assistant Principal Allison Peake shares why she nominated Mr. Bostic and Mrs. Vandekerkhove.
"Fred Bostic is an amazing teacher and coach! In in the first two months of school when students voted for teacher of the month, Mr. Bostic received multiple votes both months. Students have responded with such comments as, "In class he makes the subject more fun to everyone and he is one of the best teachers I have ever had." Students know Coach Bostic cares about not just their learning, but them personally. He consistently speaks to students in the hallway and, at lunch, finds different students to sit with in the cafeteria to eat and talk to. He teaches in the Freshman Academy and plays a vital role in keeping our students on track! Fred also serves as our head girls' varsity basketball coach and assistant football coach. He is always looking for opportunities to serve. We are very lucky to have Mr. Bostic at Berea High School!"
"Jessica Vandekerkhove definitely goes above and beyond for her students. For example, when Jessica had to be out due to someone in her family testing positive for COVID, she did not skip a beat. She made sure that the time she had with her students would not be missed by live streaming all of her classes every day that she was out. Her live stream lessons were so effective that, hearing her voice come out of the speaker each block from down the hall, we almost forgot that she wasn't even on campus. She put her students' learning first and ensured that the relationships she began to build would continue to grow. She also serves as department chair and works tirelessly to ensure that our 9th grade students stay on track! She is a tremendous asset for the Berea community!"

CAROLINA HIGH
Principal Delaney shares why he nominated Ms. Hults and Mr. Weber.
"Ms. Hults has really come out of her teaching shell this year and has displayed risk taking abilities, content and standards alignment, and innovation with text she uses to reach her students and make connections. Her lessons are thoughtful, carefully planned and executed, and require deeper thinking, and she is always open to and asking for feedback. Ms. Hults also stays after school with seniors to help them apply to colleges and write application essays that convey who the student is both personally and academically. The students appreciate her and take every chance they get to let her know. "
"Mr. Weber's ability to take content and make it relevant for his students is amazing. He is the master at taking a concept and making it real world for both his in person and virtual students. He also seeks feedback because he wants to make sure all of his students can access the material. He gets great participation in class and in his virtual class."
GREENVILLE EARLY COLLEGE
Assistant Administrator, DeAnna Chambers, shares why she nominated Mrs. Earle and Mr. Ray.
"Mrs. Earle has the warmest, most caring demeanor that our students love! Mrs. Earle's Math students rush to her room every morning and look forward to her instruction and motherly nurturing. Mrs. Earle has built a strong relationship with each of her students and they feel cared about academically and personally. She takes time each morning to work on student's social-emotional wellbeing to help students have a great day despite circumstances that personally affect them. Mrs. Earle truly wants the best for her students and strives every day to give them her best self."
"Mr. Ray is a phenomenal and caring teacher. He strives to give his students learning experiences that are relatable and useful. Mr. Ray goes above and beyond in finding educational resources for his students. He recently applied and was awarded a grant to provide copies of relatable texts for his students. All of his students were so overjoyed with his kind gesture and begged Mr. Ray for the extra class time to read the awarded books. Mr. Ray is a champion at doing what's needed to bring education alive for his students."
LAKEVIEW MIDDLE SCHOOL
Principal Dobbins shares why she nominated Mrs. Jones and Ms. Ravishanker.
"Mrs. Jones acts like she has been teaching for 30 years even though this is only her second year in the classroom. Her students love her and enjoy all the differentiated activities she plans for them. She deeply cares about her students and is constantly communicating with parents to see how they can work together as a team. She really does go way beyond the normal expectations of a teacher."
"Ravi, as we all call her, is constantly looking for new strategies and activities to keep her students energized, motivated and excited about science. Students do not want to leave her class when the bell rings. Ravi is never satisfied with average and wants all her students to excel."
TANGLEWOOD MIDDLE SCHOOL
Principal Walles shares why he nominated Mrs. Fajardo and Ms. Mack.
"Mrs. Fajardo, a Spanish teacher, requested that we change her schedule so that she could accommodate non-English speakers in our school. Our non-English speakers now have a place that provides the time and resources that enable them to assimilate more effectively into the school culture. Mrs. Fajardo also supports the student Bike Club, which works with approximately 15 students 3 days out of the week. Being a native of Columbia, Mrs. Fajardo has a heart for people, our students, and especially students who are new to our culture, language and life in America. We are very blessed to have her here."
"Ms. Mack is a unique instructional staff person. Unfortunately, Tanglewood is impacted by spurts of teacher absences, especially now with Covid-19. Her job is to be ready to fill in for any teacher at any time throughout the day. She is always on time, and never asks questions about filling a role. Her commitment to students, the staff and the school are evident. A staff person like her often goes unappreciated, but she is a spotlight for Tanglewood Middle."
---
Recent News