#Teach864
#Teach864 Partnerships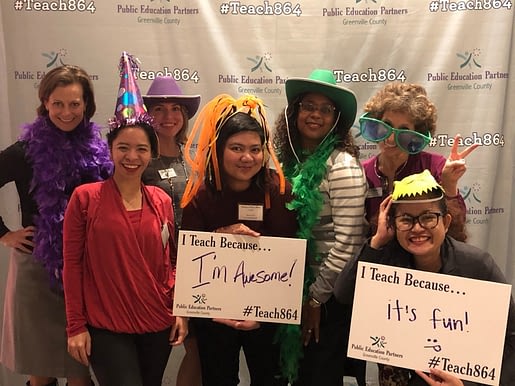 #Teach864 is a year-round campaign that Public Education Partners introduced in April 2018 as a way for the greater Greenville Community to show recognition and support for teachers. Public Education Partners brings the community together to shine the light on the teaching profession. #Teach864 is a campaign that recognizes the extraordinary work of teachers by hosting events and providing resources that inspire classroom innovation.
Feeling valued professionally by the community is an important consideration for many teachers when deciding on a place to live and work. We believe that the community plays a role in supporting the retention efforts of our local school district by providing the wraparound encouragement and recognition that our teachers need to thrive.
Public Education Partners is proud to work with the following sponsors for our #Teach864 annual events.