Family Reading Nights: Volunteer Information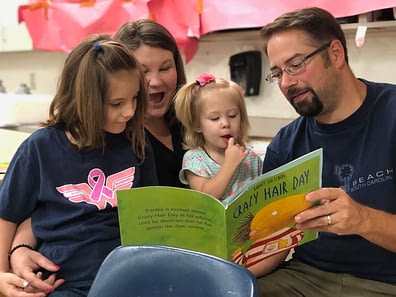 Volunteers are always welcome at PEP, but they are most vital during the summer for our Make Summer Count Family Reading Nights (FRN).
FRN Volunteers are responsible for helping PEP staff set up a free book fair upon arrival at schools, answering any parent inquiries and/or leading a group of families through the read-aloud activity. Volunteers are comprehensively trained by PEP staff on how to conduct a great read-aloud, and may attend as many FRNs as they like.
Please note that Family Reading Nights have been postponed. Please check back in spring 2022.
If volunteering for Make Summer Count or another PEP initiative interests you, please email Carol Beard at carol@pepgc.org.