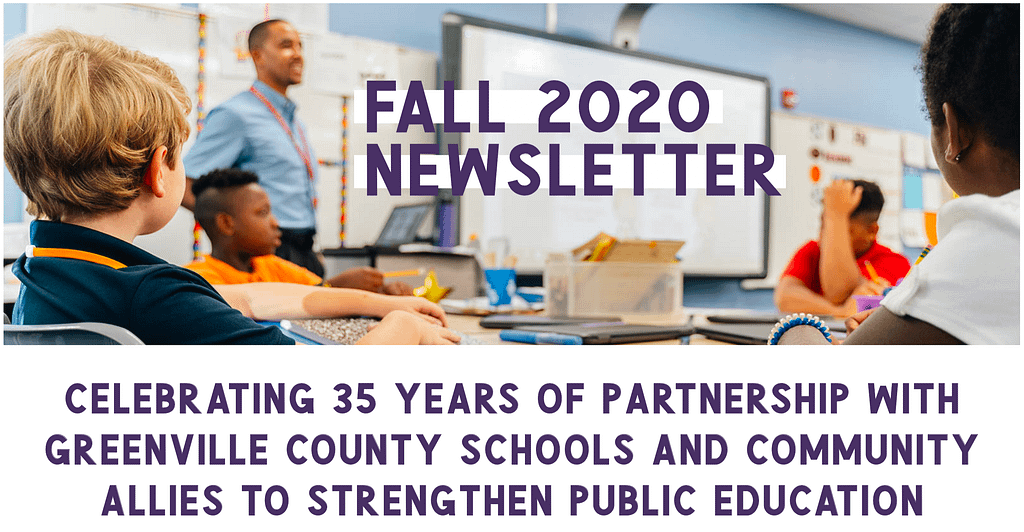 I recently learned that gratitude literally rewires your brain to heal the effects of anxiety and stress. I think we can all agree that our brains need some healing in 2020.
As PEP continues to celebrate 35 years of working collaboratively to improve student achievement and public education in Greenville County, I want to take a moment to express gratitude to you, the partners that give our organization its name. I am also grateful for leadership, and for people who stand up for what is right, especially when it is hard. To that end, I give thanks for the legacy of Hayne Hipp, one of PEP's founders, who passed away in August and leaves an extraordinary record of visionary leadership, of which this organization is but one component.
I am grateful for the leadership of Greenville County Schools, especially Superintendent Dr. Burke Royster and the Board of Trustees, who have been wrestling with a series of difficult decisions in an effort to keep students learning while also keeping them, their teachers, and staff safe. I am so grateful for each and every Greenville County Schools teacher, who lead by example and demonstrate remarkable resilience, creativity, and adaptability. I am grateful for the bright spots that PEP makes possible, the team that makes them happen, and the Board of Directors that empowers us to do so. At the top of my bright spots list in the last few months is the remarkable response that we had to our community read of Dr. Beverly Tatum's "Why are all the Black Kids Sitting Together in the Cafeteria?" and the conversations we have had with teachers and principals since about how our schools can do a better job of overcoming the opportunity gap that students have faced because of structural racism and poverty.
How can PEP grow and activate our 35-year strong network to lead that change as we focus on recovery and the re-imagination of our systems? I am especially grateful for that challenge, and the opportunity to tackle it together. Thank you for joining us.

Catherine Schumacher, President & CEO
---
Recent News