First-Year Teacher Support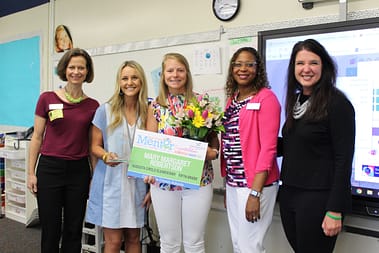 Public Education Partners understands the importance of supporting first-year teachers. The new responsibilities and challenges, both in and out of the classroom, can be overwhelming. Paired with the current nationwide shortage for teachers, it's imperative that new teachers receive the support needed from the local community for success. Of the first-year teachers hired for the 2017-18 school year, 25% did not return to teaching in South Carolina ["South Carolina Annual Educator Supply & Demand Report," Center for Educator Recruitment, Retention & Advancement (CERRA), January 2019]
PEP coordinates with Greenville County Schools to provide support and inspiration for new teachers.  With the help of our community partners, we host two networking events throughout the year for first-year teachers to engage socially with a supportive community:  #TeachGCS night, a spring event in conjunction with the Greenville Drive, and a fall event. PEP also contributes to the First Class Teacher Awards, administered by Greenville County Schools, to recognize outstanding Induction teachers representing elementary, middle, high school, and career centers.   Additionally, first-year teachers are encouraged to apply for PEP's Building STEAM grants.
Networking Events
First-Year Teacher Awards
The First Class Teacher Award seeks to recognize outstanding first-year teachers in Greenville County Schools who have a passion for teaching, a commitment to developing their students, and a willingness to grow in the profession. In partnership with Greenville County Schools, Public Education Partners sponsors this award which honors four first-year teachers (elementary, middle, high school and special centers) and presents them with a trophy and a $100 monetary award.
We were pleased to honor our 2022 first-year teacher recipients.
Gina Selvaggi, Greenbrier Elementary, First Grade
Emilee Osmer, Ralph Chandler Middle, Mathematics
Harrison Thornton, Travelers Rest High, Band
Caroline Grose, Washington Center, Special Education
We were also pleased to honor our 2022 mentor recipients.
Mary Margaret Robertson, Augusta Circle Elementary, Fifth Grade
Tamara Uria, Greenville Middle Academy, ESOL
Rhianon Andry, Blue Ridge High, Science