In 2014, Public Education Partners, in partnership with Greenville County Schools Scholastic, and numerous community volunteers and businesses, launched the Make Summer Count program. Since its inception, the award-winning Make Summer Count (MSC) program has increased children's access to high interest, age-appropriate books, and supported reading growth for hundreds of thousands of elementary students across Greenville county, particularly in community schools where resources for family libraries might be limited.
MSC consists of two targeted, research-based opportunities for literacy engagement and volunteering — Book Celebrations to build home libraries and Family Reading Nights. Our two-pronged approach has a proven record of success in supporting students' summer reading achievement in Greenville County Schools.
In partnership with Scholastic, two years of research and evaluation reveal that Make Summer Count has a positive impact on the reading levels of students participating in the program, and a positive shift in family literacy behaviors at home. Specifically, 78% of students in grades 3-5 maintained or increased their reading level from spring to fall 2016. Because of such positive results, PEP won the 2017 Dick and Tunky Riley WhatWorksSC Award for Excellence from the Riley Institute and has presented at numerous literacy conferences across the United States.
Book Celebrations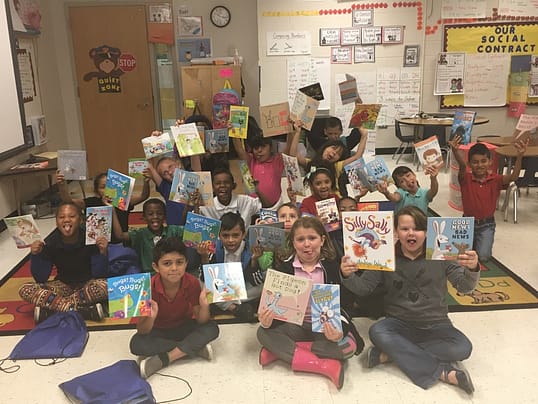 Book Celebrations are designed to celebrate book access before the summer begins by building home libraries for students. Each spring, elementary aged students (grades 4K-5) at PEP's 12 partner elementary schools self-select ten free, high-interest, age-appropriate books for their summer reading pleasure.
Each MSC school plans creative ways to celebrate the arrival of the new books with their students. PEP joins one of these schools each year to host the Make Summer Count Kick-Off, launching the MSC season, and engaging the community in celebrating this game-changing summer reading program.
We believe that book ownership plays an important role in the life of a reader, so children are encouraged to make their own book choices, take them home and make them their own. The result is an increase in reading motivation and skill throughout the summer months and beyond.
Family Reading Nights
From May through July, PEP hosts Family Reading Nights (FRN) at each of the 12 MSC partner schools in Greenville County. FRNs are designed to promote family reading engagement throughout the summer and to continue to build children's home libraries by offering a free book fair. Families are invited to experience an interactive read-aloud led by a community volunteer that models research-based strategies for reading engagement. Families then have the opportunity to pair up with their children to practice the reading strategies shared.
If you are interested in volunteering during one of our Family Reading Nights, please view our volunteer information here.