OnTrack Greenville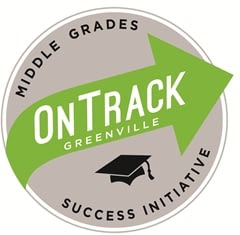 Middle school is an exciting time for students to test out their strengths, explore new concepts and imagine their future. But it's also a time when too many students begin to disengage with school and take the first steps on the path towards dropping out of high school, putting their futures at risk. That's where OnTrack Greenville comes in.
Led by the United Way of Greenville County, OnTrack Greenville is a community initiative designed to ensure students stay on track toward high school graduation. It is a whole child approach, using an evidence-based drop-out prevention and school transformation model, designed to systematically address the challenges students face.
Public Education Partners serves as a strategic partner for OnTrack Greenville as stakeholders consider the best way to sustain, scale and systematize OnTrack's impact on student achievement and well-being. Additionally, PEP researches and implements efforts to support teacher recruitment, retention and morale at Berea Middle, Lakeview Middle, Tanglewood Middle and Carolina High School and Academy.