Our Mission
Public Education Partners leads our community in acting collectively to support, strengthen and advance public education and student achievement in Greenville County Schools.
Our mission is based on five core beliefs:
Public education is fundamental to a democratic, civil, and prosperous society.
Public schools are critical institutions for breaking the cycle of poverty and redressing social inequities.
Public education is a critical lever for community prosperity and vitality.
Education reform must be systemic and engage multiple stakeholders to be effective.
Public engagement, community support and adequate resources—especially highly qualified teachers—are essential to the success of public education.
Our Vision
A Greenville County that shines as a model for how collective community engagement yields educational equity and success for all students in public education.
Our Values
Collaboration: We seek out and nurture deep relationships with organizations working toward a common vision for students in Greenville County Schools (GCS), and focus our work through ongoing engagement with the District itself.
Equity: We center the needs of students and families who have been most impacted by systemic inequities in all aspects of our decision-making.
Research: We ground our intentions and action by researching, aggregating, and synthesizing the best available data and evidence-based strategies.
Continuous Learning: We apply insights from on-the-ground activity to inform future planning and policy priorities in an iterative cycle of assessment, reflection, and action.
Independence: We work closely with Greenville County Schools while honoring our status as a separate organization that can serve as a catalyst for change.
Commitment to Diversity, Equity, and Inclusion
At Public Education Partners, we believe that centering diversity, equity, and inclusion (DEI) is essential to our ability to fulfill our mission, lead progress to our vision, and build a community where everyone thrives. Ultimately, our work tackles institutional barriers and inequitable access rooted in systems and policies.
We define Educational Equity as ensuring every child gets what they need in our schools in order to learn and thrive regardless of who they are. It offers inclusive and safe school environments, and emphasizes needs, experiences, and outcomes that are adaptive to and reflective of each student.
We recognize:
The historic and systemic nature of racism in the United States and how it has manifested in our public school system;
That marginalized groups are harmed by impacts from both historic oppression and current discrimination;
That public education has a critical role to play in creating a more just society, but has yet to live up to that promise.
We commit to:
Grounding our work using diversity, equity, and inclusion as the primary filter for decision-making and prioritizing target constituencies and actions to create conditions for education equity;
Centering the voices and lived experience of those who have been impacted by inequitable systems, through intentional outreach and engagement;
Building a diverse and inclusive environment for employees, Board members, and community partners that fosters a culture of belonging;
Continuous learning in the DEI space that invites others to join us on the journey.
Our Strategies
Elevating Teachers – Invest in creating conditions that position Greenville as an ideal destination for teachers.

Empowering Advocates – Leverage an advocacy point of view that supports our mission.

Engaging Communities – Shift our capacity model to support work at a systemic level.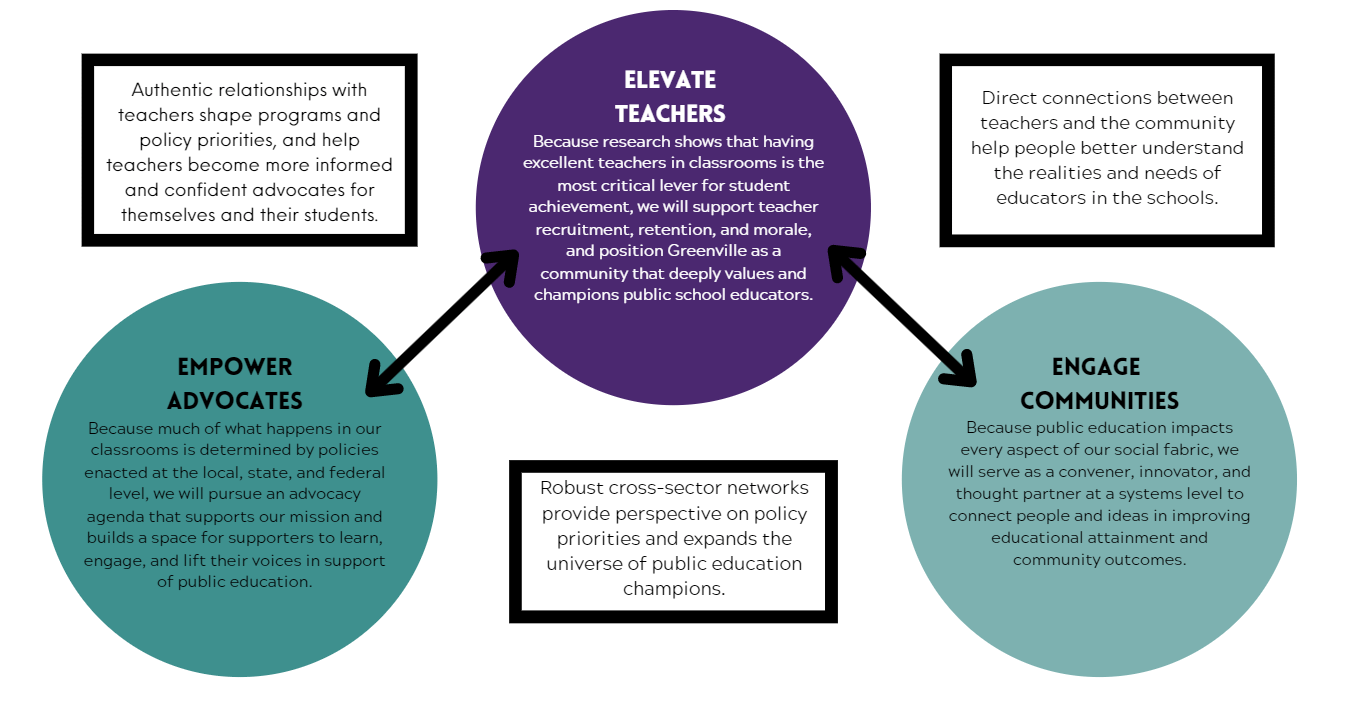 For more detailed information regarding PEP's strategic intentions, click here